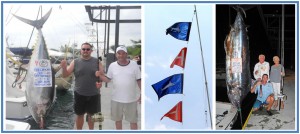 To those of you that are interested in fishing some of the Marlin Tournaments in 2015, we are wide open this year.  We had a cancellation from one of our regulars due to an injury.  With an El Nino developing we expect an awesome year.  We have seen some big fish at the scales and the big Ahi Tuna are starting early.
Attached is the Tournament Schedule for 2015. Call me at 808.987.0038 to discuss and we can go from there.
Welcome,   Captain Chuck Wilson
2015 Kona Tournament Series
Dirty Dozen
First Saturday of Every Month.
Rock and Reel Tournament –  June 12th , 13th  & 14th – Two fishing days
 The Hawaii Big Game Fishing Club invites you to come join the fun and excitement of our 12th Annual Rock 'n Reel Hawaiian Open two day tournament!
Kona Kick Off  –  June 27th   & 28th – Two Fishing days
The Tournament that kicks it all off. Local Style. Largest flag fish of each category splits purse.
Marlin Magic Lure Tournament  July 2nd  and July 3rd – Two days fishing
29th Annual Blue Marlin World Cup Tournament – July 4th – One day fishing… 
The "World Cup" is truly the only worldwide tournament of its kind. Each July 4, teams fish for 8 hours in their time zone to see who can catch the largest blue marlin over 500 pounds. Winner takes all. There is no second place.  The World Cup supports game fishing though its support of the IGFA and The Billfish Foundation.  http://www.bluemarlinworldcup.com/
Firecracker Open  –  July 3rd , 4th  & 5th – Two fishing days…. 
Kona's signature "Big Game" Tournament that scores ahi and marlin points for the base purse. Optional categories for the largest marlin and ahi of each day and of the two day tournament.
Skins Marlin Derby  –  July 10th , 11th , 12th , & 13th  – Three fishing days
The most unique Big Marlin competition in the world! Patterned after the golf format, the base purse is available each fishing day to the largest marlin weighing 500 lbs or more. If no one catches a marlin of that size, the day's purse rolls over and is added to the next day's purse.
Throw Down   –  July 7th , 8th , 9th  – Two fishing days
The Single Largest Marlin of the Tournament will be Winner Take All the purse from the Base Entry division. Entry fee to be posted soon.
54th Annual Hawaiian International Billfish Tournament  –   August 8th  – August 15th
Five days of tournament fishing   August 10th – August 14th   . Anglers and teams are invited to apply early as full tournament participation is anticipated. Log onto http://www.hibtfishing.com/ for details.
 Big Island Marlin Tournament  –   August 21st , 22nd & 23rd  Two fishing days 
The event that started it all off in 1986. The BIMT was the very first high stakes, big game tournament in Hawaii to pay a cash purse for tag and release. The base entry pays the top three largest marlin.  Optionals or side pools pay most points and largest marlin per day.
Veterans Helping Veterans  –  Dates to be announced  – Two fishing days
September Challenge  –   September 12th , 13th  & 14th  –  Three fishing days
Designed with input from the top skippers of 2010, minimum size fish is 400 lbs and 1st Place takes 70% of the base purse.
Feel free to contact me about availability and information about these events.   808.987.0038
http://www.firehattsportfishing.com/wp-content/uploads/2011/12/Tournament-Schedule-Photo-2012.jpg
669
2788
linda
http://www.firehattsportfishing.com/wp-content/uploads/2014/01/Fire-Hatt-Sport-Fishing-Kona-Logo2-300x53.jpg
linda
2015-05-10 13:13:20
2015-05-10 13:13:20
2015 Kona Tournament Series